Important Dates in the History of Purple Sorcerer Games
It occurred to me it would be fun to put together a timeline of the major DCC milestones we've passed along the way... at the very least it will help me keep everything straight in my head!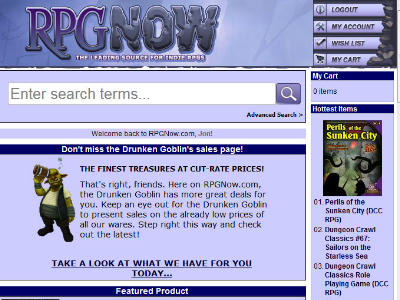 1978: Mom drove me to the next town over to purchase the blue box Basic D&D, kicking off a life-long love of adventure
1982: Purchased 'Arms Law' from an ad in Dragon Magazine, starting a 10 year obsession with Rolemaster
1985: Created MERC, my first character generator (for Rolemaster) on my Commodore 64.
1993: Friends in my gaming group ask me to run some 1st Edition adventures, and my love for more old-school play is rekindled. We eventually move through 2nd, 3rd, and (briefly) 4th edition D&D
March 2007: Purchased Castles and Crusades (First OSR product)
July 2009: Purchased Mists of Madness (4E) (First contact with Goodman Games)
January 2010: Created a character generator and combat manager for 4th Edition D&D, but never release it due to an unfriendly legal environment for such things in that neck of the woods. The dice and batch roller in the combat manager form the basis for all future dice rollers
July 2010: Heard First Rumors of DCC RPG
June 8, 2011: Dungeon Crawl Classics Beta Released
June 11, 2011: 1st version of 0-Level Generator is completed (3 days later!)
June 13, 2011: 0-Level Generator is Announced to the World
June 18, 2011: My Wife and Son pick up the Free RPG Day/DCC Quick Start Rules for Me from the FLGS(!)
June 28, 2011: Funky Dice Roller Released (pre-curser to the Crawler's Companion)
Nov 24, 2011: PurpleSorcerer.com goes live
May 23, 2012: Perils of the Sunken City Published (The first 3rd party DCC adventure released, just beating out Stephen Newton's awesome Attack of the Frawgs)
May 31, 2012: Beta Version of Crawler's Companion Released
June 5, 2012: Upper Level Character Generator Released
June 6, 2012: Crawler's Companion Kickstarter
July 16, 2012: The Ooze Pits of Jonas Gralk Published
Feb 3, 2013: Crawler's Companion Goes Live
April 5, 2013: Lair of the Mist Men Published
June 15, 2013: Gathering of the Marked Published
August 17, 2013: Ennie Award for Crawler's Companion
Feb 26, 2014: Sunken City Omnibus Published
June 1, 2014: First Free Tools Pledge Drive raises $375
June 15, 2014: Nebin Pendlebrook's Perilous Pantry Published
Feb 24, 2015: Sorcerer's Grimoire Goes Live
Feb 11, 2016: The Carnival of the Damned Published
June 11, 2016: 2nd Free Tools Pledge Drive raises $1300
July 16, 2016: Quick Tools Generators Go Live
Sept 6, 2016: Crawler 1.5
Oct 4, 2016: The Frost Fang Expedition Published
Dec 3, 2016: Escape from the Shrouded Fen Published
Dec 24, 2016: Purple Sorcerer Site adds https
April 15, 2017: Tutorial Videos/Youtube Page Consolidated
June 24, 2017: 3rd Free Tools Pledge Drive raises $3900
June 25, 2017: Mutant Crawl Classics Generator Goes Live
July 10, 2017: Added Purple Sorcerer Patron Page
Feb 28, 2018: Zero and Upper Level Character Generators Integrates Goodman Games Sheets
March 8, 2018: Crawler 1.8
April 1, 2018: HTML Crawler Work Begins
June 23, 2018: Fourth Free Tools Pledge Drive raises $5000
June 6, 2019: The Crypt in Cadaver Canyon Kickstarter raised nearly $10,000
June 14, 2019: Download codes for early release version of Crypt go out
June 29, 2019: Fifth Free Tools Pledge Drive raises $4500
December 12, 2019: Download codes for the Sullenlands Omnibus go out
July 5, 2020: Pod Codes for the Sullenlands Omnibus go out
July 12, 2020: Sixth Free Tools Pledge Drive raises $5100
August 24, 2020: Sullenlands Omnibus and Crypt in Cadaver Canyon available to general public
October 23, 2020: Awarded a Gold Goodie Award from Goodman Games for Community Service
May 12, 2021: Announced that Purple Sorcerer Games is now Jon's full-time gig
July 3, 2021: Lankhmar Character Generator released
Thanks to everyone who has stuck with us on this amazing journey!